Message from our Minister
Rev Maggie Whyte
Updated 4/3/21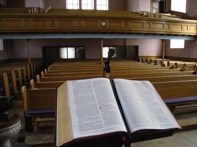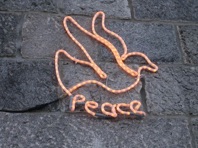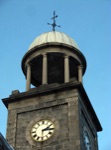 Dear Friends,
It seems such a long time since we have gathered together for worship and for fellowship in our church building. It has been a long year, a year in which so much has changed, and yet it often seems that every day is the same! The winter months in lockdown have left many of us exhausted; our spirits may be low from the lack of our usual routines and activities. However, last week's heavy snow has gone and now there are glimpses of Spring. The sun is shining and there are a few wee brave snowdrops that have ventured through the soil. The days are gradually getting longer, and there is a feeling of expectation in the air. Things are changing for the better.
That change is happening too with regard to Coronavirus. We are not out of the woods yet but there is a sense now that we can overcome this virus. We perhaps don't know an awful lot more about the virus now than we did a year ago, as it mutates quite quickly, however we are gradually learning to live with it and to manage it. With the help of the medical and scientific communities the world is fighting back, although some places have a very definite disadvantage in the fight. We must continue to thank God for the people who have made the breakthroughs with vaccines, as well as the many people who have been at the battlefront throughout. We are blessed to have had the care and the resources of the NHS. We are so much more fortunate than many of the world's population – the world's poorest people. We shall continue to pray for more equity in our world, and to speak out and campaign for the changes that are needed.
Life cannot return to "normal" at the moment, and that is perhaps not a bad thing. We should not settle for what was seen as "normal" before this pandemic began, otherwise what has it all been about? It is essential that we learn from our experiences and use them to bring about a more caring and loving world – a world where God's Kingdom may be seen to be breaking through. As individuals and as the Parish Church we must hold on to and develop our new ways of being "good neighbours". So many have suffered so much loss and the legacy of the pandemic will be long-lasting. Let's make sure we hold on to and nurture the positive outcomes, while the negative effects are left burn themselves out. May we be committed to walking alongside our neighbours as together we make our way forward into a better expression of the life God has given us.
CHURCH NEWS & EVENTS
As I said earlier, the time is not yet here when we can gather together in Church. For many years now at St Stephen's there has been a series of Beta Nights each spring (Jan – May). Last year we had to cancel these due to COVID-19, but now we have access to doing things a bit differently. I am very happy to tell you that our intention is to hold "Zoom Beta" this year. Some of you have already joined in Zoom meetings of the Guild or accessed Sunday Services with other congregations using this method, either by laptop/ I-pad, or via our telephone option. I hope you will consider this for Beta. We will have fewer than usual sessions and, unfortunately, we will not be able to have a pot-luck supper together.
These two have already been organised during Lent: -
ZOOM BETA 1 WILL BE ON THURSDAY 18th MARCH AT 7PM. Our speaker will be REV GRAHAM BLACK - a well-known face at St S's both as a worship leader and a Beta speaker.
ZOOM BETA 2 WILL BE ON MAUNDY THURSDAY APRIL 1ST AT 7PM. Our speaker will be REV DAVID HUTCHISON – and this evening will include a celebration of HOLY COMMUNION
We hope to have a good attendance at each of these Beta Evenings. If you have never managed to come to Beta before then this is an ideal opportunity to try it out without leaving home on a dark evening! We are asking people to register an interest one week in advance of each Beta Night so that we have some idea of how many are coming along. You can do so by phoning the manse or by emailing me (details at the top of this page). If you are interested in joining in this activity but you're not sure what is involved, please feel free to phone me for further information.
I know that several people from other congregations regularly come along to Beta but I do not have contact details for them. If you can get in touch with them please extend the invitation to those people, and to anyone else who is interested.
May I just remind those of you who do not have access to the internet that you can listen to our Sunday Worship via our special phoneline 01224 002500. The most recent Service is always available at any time, every day of the week. This number is for our Church Services only.
Our Parish Grouping with St Mary's, St George's Tillydrone, St Machar Cathedral is still in the pipeline although most of the work to date has been concerning the Union of St Mary's and St George's Tillydrone. You will understand that everything takes longer to do in this period when people cannot meet together. St Machar have now advertised their vacancy and we await any further news.
As you are no doubt aware, the pandemic has greatly increased the numbers of people relying on Foodbanks for support. With this in mind it would be good if we could resume our monthly collections of non-perishable foods outside the church on the last Saturday of each month.
OUR NEXT FOODBANK COLLECTION WILL BE ON SATURDAY 27TH MARCH, 2.00 – 3.00PM, AT THE FRONT DOOR OF THE CHURCH. THERE WILL ALSO BE AN OPPORTUNITY TO DROP OF WFO ENVELOPES, FOR THOSE WHO WISH TO DO SO.
Obviously, especially as we are still in Lockdown, all safety rules must be kept in place – facemasks, hand gels, social distancing. In the meantime, we would ask that people come along by themselves where possible, and do not wait around to chat with others. Hopefully, when people have received their second dose of the vaccine and restrictions are relaxed a bit, we will once again be able to share some time together outdoors.
Take care and stay safe.
Yours in Christ's Service,
Maggie
14th February 2021
Hello Friends,
I hope you are all keeping warm in this extremely cold weather. The last time we had snow like this was the year I started at St Stephen's - 2010. I'm happy to wait another 11 years for the next heavy snowfall. 
I imagine by now that most of you have had your first dose of COVID 19 vaccine? Although we are not out of the woods yet, it is good to see a wee bit of light at the end of this long tunnel through which we have been journeying. I pray you all keep safe and well, and I'm sure you will join me in praying that we can return to some kind of normality before too much longer; I expect it will take months rather than weeks, but the end will soon be in sight. Let's thank God for the modern medicines and technology that have helped to see us through this far in the crisis. We must also give thanks for those people who have worked, and continue to work, at the frontlines - all NHS Scotland employees who have given their all, as well as Carers, Shopworkers and many, many others. We pray too for their safety as they go about their jobs. Let's also remember those families who have been bereaved during this challenging time - we pray God's comfort and peace.
Take care and stay safe ( we're almost there!)
Yours in Christ Jesus,
Maggie 
30th January 2021
Dear Friends,
I hope you are all well. Here we are at the end of January already. It's good to see the daylight hours are stretching a bit although the weather continues to be cold. I trust some of you will have had your first vaccine jab already - let's hope the rollout of the vaccine is done at a steady pace and we can begin to relax a little soon. It has been a long slog, but we must thank God for the progress that has been made, and for the many good things that have happened in our communities during times of lockdown. Even in the worst circumstances there are rays of hope.
I have attached a news item from Presbytery regarding church changes in the north of the city - Union of Mastrick, Summerhill and Northfield. I hope you will find time to read this, and remember the Ministers, the Congregation and the community in your prayers as they begin this exciting new church.23rd January 2021. Please click the link here.
May God bless you all
Keep well and stay safe
Maggie
23rd January 2021
Dear Friends,
Here we are at the beginning of a new week. It's good to see the daylight hours extending now as we move towards the end of January. There are even some early signs of Spring around in the garden, although it is still frosty. I hope you are all well and staying safe during this lockdown. I wonder if anyone has had their first dose of the Coronavirus vaccine yet?
This week you will see a new face during our online worship. Susan Edwards- Horton will be on a Discernment Placement with me for the next few months. During this time, Susan will explore the various forms of Ministry within the Church of Scotland as she begins to discern how God is calling her to serve him in the years ahead. Susan lives in Shetland so her placement tasks will have to be carried out online. I know you will join me in welcoming Susan to St Stephen's Church. We hope that at least some of you might have an opportunity to meet Susan, either through Zoom meetings or by telephone. Please hold Susan in prayer as she seeks to become aware of the plans God has for her.
I am sure you will join me in prayer for Lila Simpson and her family as they prepare for a Service of Thanksgiving for Bill's life. The Service will be on Wednesday 27th at 11.30 am at Baldarroch Crematorium in Crathes. Sadly, due to lockdown regulations, the numbers attending will be restricted, but I know many of your thoughts and prayers will be with the family this week.
I hope you will have time to enjoy worshipping with our Church Family this Sunday.
The Lord bless you and keep you.
Maggie
20 December 2020
Dear Friends,
I am sure that many of you are already aware of the new COVID 19 restrictions that come into effect on Boxing Day, when we will move into level 4 for 3 weeks. Given this change, we have decided that the St Stephen's Church Building will remain closed from now until the end of January, when we will review the situation. This means our time of prayer on 26th December and throughout January will not take place. This is a sad but necessary decision. The health and well-being of the congregation must come first. Please share this information with friends who do not have internet access - and remind them that they can listen to our Services by calling 01224 002500 (calls are charged at local rate)
Fortunately, we have our online Services to look forward to. This Sunday we have both Morning Worship and our 9 Lessons and Carols by Candlelight. I will send out the link for the evening service when it becomes available. It is scheduled to begin at 6.30 pm. Like all our Services, it will remain available on our You Tube channel.
I hope you enjoy this chance to worship together, even though we are apart.
Have a lovely Sunday.
May God Bless you all.
Maggie